NÉE POUR FAIRE VOIR LE MONDE AUTOUR DE MOI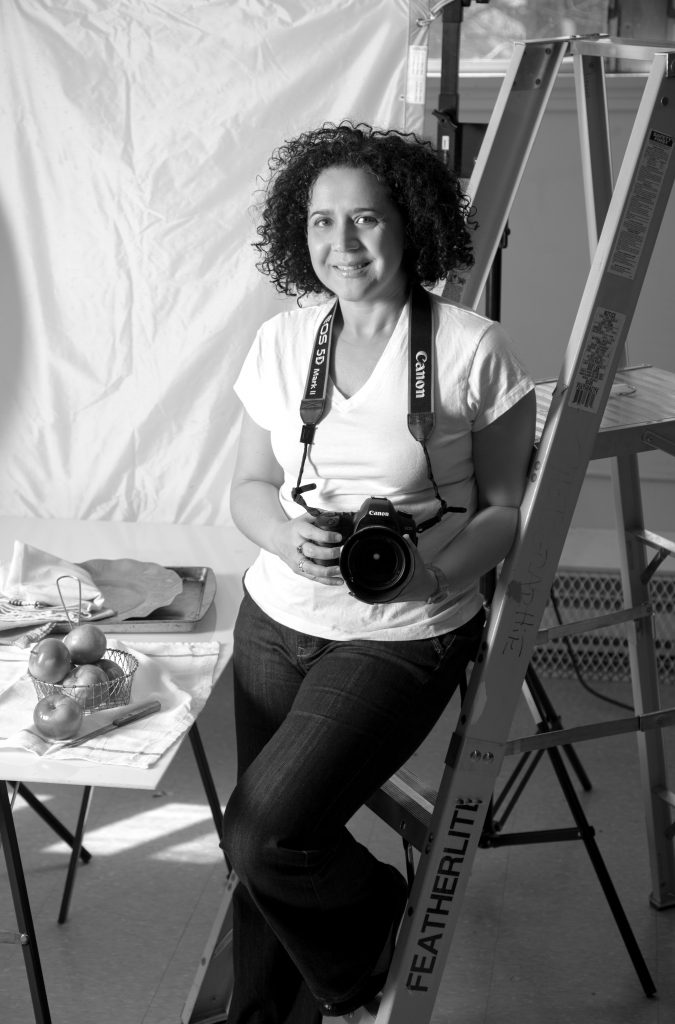 Photographie par Adriana Hernández
Je suis originaire du Caracas, Venezuela, où j'exerçais une profession captivante: l'ophtalmologie pédiatrique.
En 2008 j'ai fait le grand saut vers le nord et je suis tombée en amour avec la ville de Montréal où j'ai bâti un petit nid douillet avec mon mari et j'ai trouvé le courage de suivre une passion que j'avais depuis longtemps: la photographie. J'avais fait des études en photographie argentique en 2008, dans l'école de Roberto Mata à Caracas et en 2011 et j'ai suivi la formation comme photographe commercial au Centre de Formation Professionnel de Lachine.
Passionnée de la photographie documentaire et alimentaire, j'ai suivi des formations avec des photographes d'expérience et très reconnues dans le domaine :
2013: Food photography: A natural approach, workshop. International Center of Photography, NY, USA. Instructeur: Susie Cushner.
2014: Food and still life photography, 2315 Western Ave, Suite 207, Seattle, Washington. Instructeur : Aran Goyoaga (Cannelle et Vanille) et Luisa Brimble
2017: Food Photography & Styling Workshop, Sunday Suppers, Brooklyn, NY, 11249, USA. Instructeur: Beth Kirby
Mes photographies sont un reflet de mes passions et j'ai choisi la photographie culinaire et de produits parce que j'adore tout ce qui est relié à la nourriture et à la culture alimentaire et parce que dans ce domaine j'ai la place pour la créativité, pour créer des histoires autour de la table et faire visible la beauté du quotidien.
Expositions:
Fondo Negro: Exposition des étudiants de l'École de photographie Roberto Mata, La guayaba verde, Caracas, Venezuela (4 Décembre 2008)
Trèce Luz: Exposition de finissants en photographie du Centre de Formation Professionnel de Lachine (23 Mai 2012)
tRoâ²: Exposition de 10 photographes de la relève, Galerie le 1040, Montréal  (9-16 juillet 2012)
Entre ciel et terre: Exposition avec le photographe Alejandro Vega, Estudio Bizz, Montréal (2 Octobre-5 Novembre 2012
Exposition internationale CFP de Lachine : 5e anniversaire du département de photographie du CFP Lachine, Lachine (13 novembre 2014)
Prix et Reconnaissances:
Attestation de reconnaissance dans le cadre de l'événement La fierté d'apprendre à Montréal 2012.
Ruban créativité (étudiant) dans le concours de la Corporation des Maîtres Photographes du Québec (CMPQ) 2012 pour la photo: Happy New-York 2012
Ruban Excellence (étudiant) dans le concours de la Corporation des Maîtres Photographes du Québec (CMPQ) 2013 pour la photo: Beauté Cubaine
Nominée aux Spiders Awards 2019 pour la photo: The tiranny of time

CLIENTS
Chocolat Boreal – Bistro Campagna – Zeste of Moringa – Bernard Traiteur Visionnaire – Nadine Thomson Interior Design – Investors group, M2C2

Fond d'aide de l'Ouest de l'Île de Mtl – Boutique Florence Floriste – RFAQ, L'Ancre de Jeunes – Seedbox Technologies – Cruise Saint Laurent

Structures Stross – Not your exotic- Naturaliz, Casabe, Ouassimagik – Pro du foyer – Bagnoles et bobinettes